Portable Bank Building Construction Nigeria - Quick Built Banking Hall
Anywhere In Nigeria
We offer portable bank building construction services to banks anywhere in Nigeria.

Who are we?
Want The Portable Cabin Catalogue
Delivered To You Right Now?

Simply enter your email in the box below and click subscribe

We are a Nigeria steel construction company that specialises in the manufacture of insulated steel buildings which can be used as . . .
1. Portable office
2. Employee accommodation
3. Portable clinics / hospitals
4. Portable Camp sites
5. Portable Telecom shelters
6. Portable schools
7. Portable warehouses
8. Portable cold rooms
9. Portable ATM Kiosks and
10. Portable bank buildings
Wait.
Can an insulated portable building be used as a banking hall?
Of course, YES!

Portable Bank Construction - The Benefits
Portable bank construction has several benefits.
One of the obvious benefits of portable bank building construction is speed of construction or speed of completion.
How so?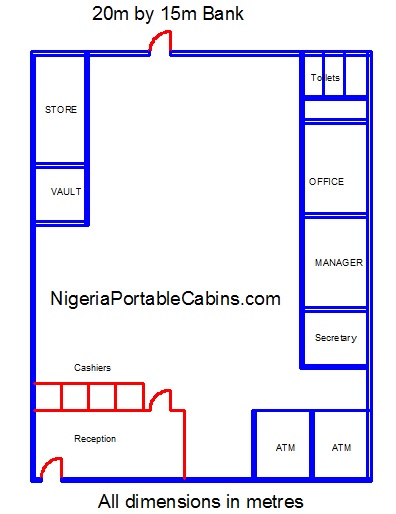 Well, portable steel buildings use what is called dry wall construction technology. This means that no wetness is involved. Nothing like cement and sand mixtures that require time to dry, which inevitably delays the construction process.
In simple words . . . portable banking halls are quick built insulated steel buildings that make service expansion a lot easier for participating banks.
So, is your bank looking to build several banks quickly?
No problem.
Simply use our portable bank construction services which is available to banks anywhere in Nigeria.

Increase The Reach of Your Bank!

Quick built portable banking halls also have the advantage of enabling banks to reach more people with their banking services and thereby substantially increase the profitability of their banks.
So, instead of building a few large buildings that take months to complete, banks can opt to build tens of smaller portable banks that take a few weeks to complete.
Guess what.
The positive impact on profitability is likely to be massive with tens of compact portable banking halls than a few congested big banking halls.

Adopt Portable Bank Building - Take Advantage of Compact Markets!
Our portable bank construction service allows banks to take advantage of densely populated neighbourhoods and markets.
For example, your bank can capture a large chunk of the unbanked population in Nigeria's densely populated markets with space constraints by opting to have several portable bank buildings within these markets.
This strategy improves service delivery, attracts more and more unbanked people within the markets (and environs) to your bank, and increases your bank's profitability.
Ready to take your bank operations or services to the grass root? Want to reach more and more Nigerians yearning for your services?
Want to increase the reach of your bank and thereby increase profitability?
Simply take advantage of our quick built bank construction services.
Please fill the form below to get started.

Back To Nigeria Portable Cabins Home Page From Portable Bank Building Page

Want The Portable Cabin Catalogue
Delivered To You Right Now?

Simply enter your email in the box below and click subscribe

Return From Portable Cabin Pictures Nigeria To Nigeria Portable Cabins Home Page
Subscribe To The Prefab Building Magazine For Regular Updates