Prefab House Plans Nigeria – Free
Prefab, Metal Building, And
Steel Building Plans
Prefab house plans give a clear interpretation of what the customer desires in his metal or prefab steel building.

People say that "a picture is worth more than a thousand words". And that is so true!

It is especially true when it comes to constructing prefab homes using the instructions laid out in the prefab building plan or the steel building plans.

Here's how it works.

We do not construct any prefabricated building without a building plan.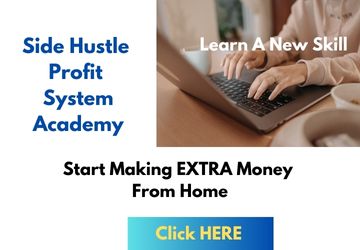 Want The Portable Cabin Catalogue
Delivered To You Right Now?

Simply enter your email in the box below and click subscribe

In fact, no smart engineer or professional builder works without a building plan because building a house without a plan is like groping in the dark. And the end result will be catastrophic failure.
Therefore, we have defined standard metal building plans for portable homes made from prefabricated sandwich panels.

This means that even before you approach us to purchase a prefab home, we already have a number of plans you can choose from.

However, since each customer is different from the other, we accept custom specifications from customers and build to customer specifications.

In simple words . . . you can either use one of our prefab building plans for your portable home or send us your own design and we will build your prefab building to your steel building plan.

What if you don't have a prefab home design of your own in print but know what you want?

You simply tell us what you want and home design team will transform your wishes into a functional prefab house plan . . . a metal building plan that match your dreams.

Bottom line.

Every steel building construction starts with the building concept. And then the concept is converted into a steel building plan that all can see and agree to. Thereafter, this is constructed into a home the customer will be excited about.

Why is having a documented metal building plan important?

Why is it important for the customer to sign off a prefab house plan before construction starts?

The reason is simple.

A drawn out prefab house design states in clear terms the expectations of the customer. And it enables our engineers and portable home builders to build to the exact specifications of the customer.

Steel building plans are the compasses that guide our engineers to successful delivery of your prefab home on time and to your satisfaction!
Steel Building Plans - Different House Types
The house types available with prefabricated buildings are similar to those with regular buildings.

The common house types in Nigeria include:

1. Studio apartment

2. 1 bedroom bungalow (popularly called self-contain house in Nigeria)

3. 3 bedroom bungalow

4. Detached duplex

5. Semi-detached duplex

6. Terrace duplex

7. Townhouse

. . . and a handful of others.

See sample prefab house plans below.

Sample Prefab Metal Building Plans

Below are the steel building plans for some of the house types in Nigeria listed above.
Looking for bungalow house plans?
Order the House Plans Ebook for just =N=2,999
Order NOW

1) Studio Apartment Design
Size: 4.6m by 3.4m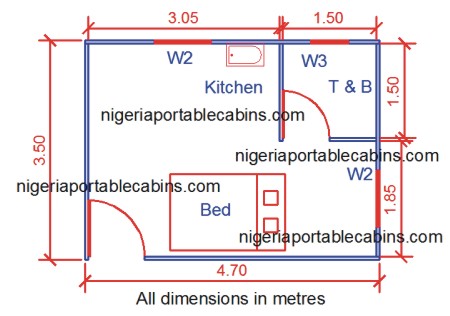 Key: W1 = 1.2m by 1.2m window; W2 = 900mm by 900mm window; W3 = 600mm by 600mm window; T & B = Toilet & Bath; D1 = 2100mm x 900mm door; D2 = 2100mm x 750mm door
2) Studio Apartment With More Space For Sitting
Size: 6m by 3.4m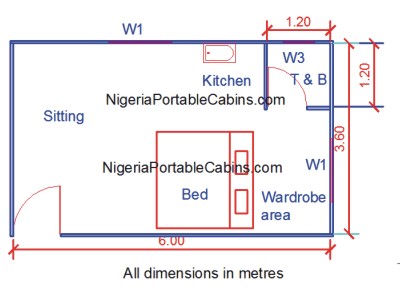 3) One bedroom flat / 1 bedroom bungalow plan
Size: 9m x 3.4m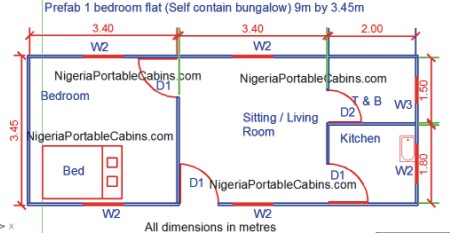 4) 2 Bedroom Flat Plan - Transportable house

Size: 10.25m by 3.4m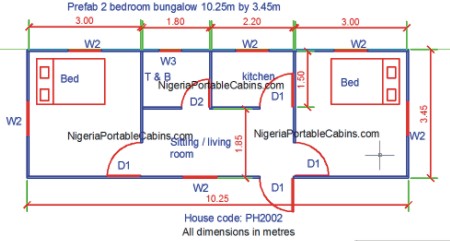 5) 2 bedroom Bungalow Plan - Bigger Apartment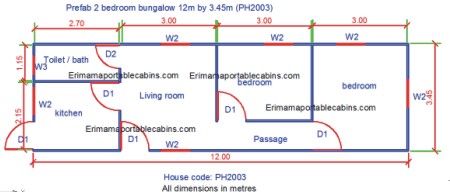 6) 2 Bedroom Prefab Bungalow Building Plan (PHC2005)

Size: 8.35m by 8.55m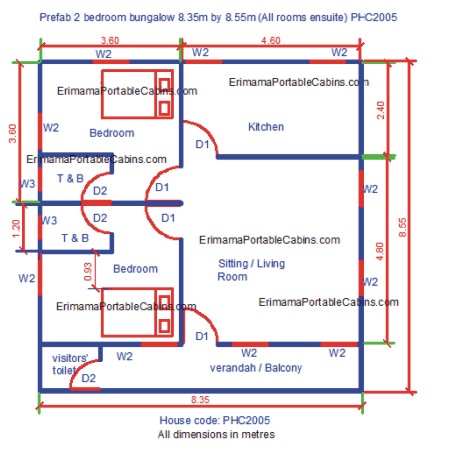 7) 3 bedroom prefab bungalow plan with visitor's toilet, all rooms ensuite (PHC2004)
Size: 10.4m by 8.55m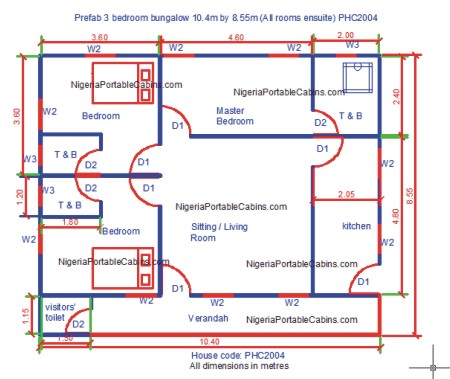 8) 3 bedroom prefab bungalow home plan (PHC2008)

Size: 9.8m by 7.35m

9a) Prefab Duplex Design (Ground Floor)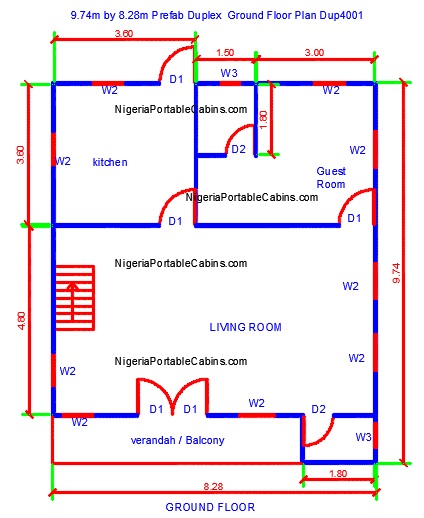 9b) Prefab Duplex Plan (1st Floor)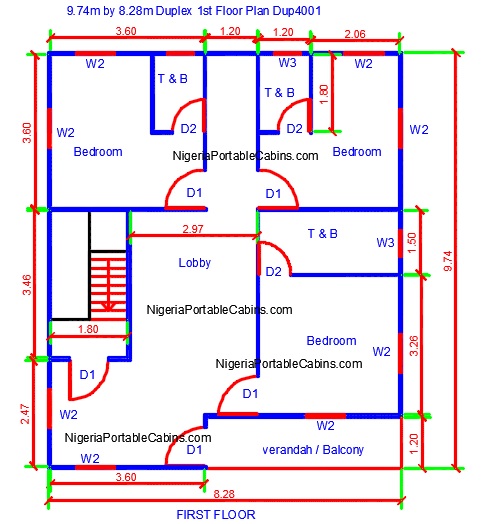 10) Prefab Clinic Design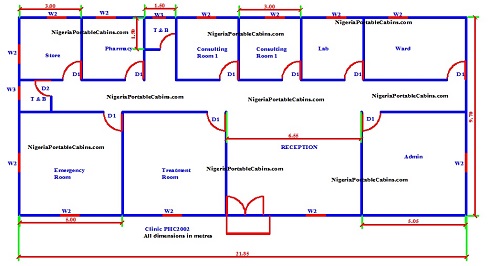 11) Prefab Hostel Building Plan


12) Prefab School Design


Download Printable Floor Plans
Order the House Plans Ebook for just =N=2,999
Want to buy a portacabin?
Click HERE to request a quote.
Want to buy a prefab duplex instead?
Click HERE to request Prefab Duplex Quote.

Related Info:
See more metal building designs
Return From Prefab House Plans To Nigeria Portable Cabins Home Page
Subscribe To The Prefab Building Magazine For Regular Updates